Ofsted
Additional monitoring inspection of Hertswood Academy 13th July 2021
OFSTED judged that safeguarding was effective when they visited the school in July. To ensure that we are graded as a good school at the next full inspection they gave two further action points:
Ensure that leaders and governors are working collectively and collaboratively with one another to share accurate, detailed, and timely information, so that they can identify issues and increase the rigour and pace of improvements in the school.
Improve the accuracy, detail and quality of communication between governors, parents, and staff to ensure that stakeholders have confidence in the actions being taken by leaders to improve the school.
We have already begun actioning these points through more rigorous monitoring and evaluation and an increased focus on effective collaboration between leaders and governors.
Report from monitoring visit 13th July 2021
---
Additional monitoring inspection of Hertswood Academy 23rd February 2021
With the national lockdown placing great pressure on schools, we were very pleased that OFSTED noted so many strengths in the academy's delivery of our online curriculum and the support we have provided onsite for vulnerable and key worker students. They could not suggest any improvement areas for us on this and mentioned that:
Leaders have made sure that all pupils have been able to access the curriculum during this period. You have provided pupils with suitable devices, where necessary, to enable them to learn online. Your initial monitoring indicated that pupils in some year groups were more likely to engage well and complete their work than others. You made changes so that pupils receive more help when completing their work. You are also checking that pupils are attending each and every lesson. These changes are promoting improved engagement.

Teachers are online during the day, checking work as pupils complete it. They are usually quick to identify pupils who are struggling and provide them with the help they need. Pupils can watch recorded explanations or examples. They return to these if they do not initially understand something or later forget it. Teachers regularly check what pupils can remember. Pupils told us that the work they do usually helps them to build on their existing knowledge, or to learn important things off by heart.

You are continuing to teach the full range of subjects. Teachers have thought carefully about how best to teach more practical subjects, such as art, at this time. In most respects, adaptations to the curriculum and to teaching methods are helping pupils to develop their knowledge and practise their skills in these subjects.

Leaders have reviewed the curriculum in each subject since the school's previous inspection. You introduced new curriculum plans in September 2020. These identify the 'big ideas' and most important subject content for pupils to be able to think about, remember and revisit over time. You have started to review how well these plans are being implemented so that you can make any necessary changes. You also want pupils to use what they know in one subject to aid their learning in another. Work to develop pupils' ability to make connections between different subjects is at an early stage.

You have done much to maintain positive relationships with families during this period. This has helped leaders to identify pupils who are vulnerable and to target the right support for them. You have strongly encouraged these pupils to attend school. You make daily checks on the engagement and wellbeing of those pupils whose parents prefer for them to remain at home.

You have made clear to pupils that all of the work they do counts, even though public examinations are not taking place in the normal way this year. Teachers have high expectations of pupils. Your monitoring indicates that pupils in Year 11 and students in Year 13 remain engaged and motivated. They typically complete their work on time and take pride in it.

You are adapting the curriculum so that pupils with SEND are typically able to learn the same things as their peers. You have provided staff with additional training which is helping them to support pupils, including those with autism or individuals with social, emotional or mental health issues. Pupils with SEND who have been learning at home have benefited from support from your staff who know them well.

Since the school's previous inspection, governors have improved their monitoring of the school's curriculum. They have commissioned external support, both to help leaders make the improvements, and to inform governors' judgements about their effectiveness. Governors have regularly challenged leaders to ensure that all pupils access education during this period of national lockdown.

Local authority leaders have been providing helpful support to leaders and governors in their work to adapt, implement and review the school's curriculum. A rolling programme of subject reviews has started to provide leaders with an external evaluation of the extent to which recent curriculum changes are having the intended impact.
They also noted that although "staff usually follow the relevant processes when reporting their concerns about the welfare of pupils to safeguarding leaders" there have been inconsistencies with our safeguarding practices. They said that "Leaders and those responsible for governance should take further action to:
ensure that all staff have a secure understanding of statutory guidance in respect of the most serious safeguarding allegations and how to respond to them
ensure that safeguarding-related information is always shared with external agencies in accordance with statutory guidance, the school's policies and local protocols
develop the capacity of the governing body to hold leaders to account with respect to their fulfilment of the school's safeguarding responsibilities.
Our community will be reassured to know that all of these areas have already been actioned since the visit on 23rd February so that safeguarding is now also effective in those areas where Ofsted identified concerns. We will strive to continue improving our safeguarding provision in line with current guidance.
Note that this inspection does not alter the school's current OFSTED rating. The monitoring inspection was conducted under section 8 (2) of the Education Act 2005 and in accordance with Ofsted's published procedures for visiting schools while routine inspections remain temporarily suspended due to the Covid crisis. The focus for this inspection was on educational provision in the current circumstances and safeguarding.
---
On the 11th and 12th September 2019, OFSTED visited our academy and we are pleased to announce that Hertswood has been upgraded from the previous inspection verdict in September 2017. Particular highlights of the report include: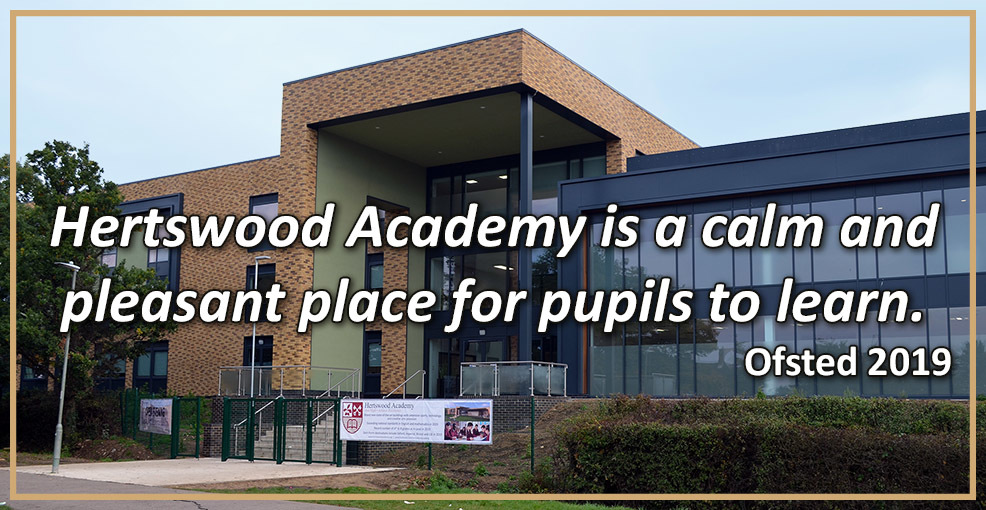 'School leaders and staff have what one parent called 'great belief' in their pupils' abilities to do great things in school and their adult lives. Many pupils told inspectors that staff encourage pupils to aim for extraordinary goals in life. As a result, many pupils take impressive next steps in their education and careers.'
'Pupils told inspectors that they enjoy going to the school and appreciate the remarkable new buildings.'
'Sixth-form students told inspectors that they chose Hertswood because staff and pupils care for each other well. Many parents reported to inspectors that staff 'go the extra mile' for pupils to ensure that they are happy and safe.'
'Many pupils do well at the end of Year 11. This is because teachers focus on helping pupils succeed in the Year 11 examinations.'Ofsted 2019
Our main targets for improvement are:
Ensuring that new learning in Key Stage 3 builds on previous learning
Ensuring that teaching in Key Stage 3 is ambitious for all pupils
Ensuring that teaching meets the needs of all students with SEND
Now we are in our new buildings, we are confident that we will be able to quickly address these improvement areas in time and move our academy to the next level. We would like to thank our parents and students for their support during the inspection process and we look forward to continuing to improve our provision for the whole community. The full report is available for download below.